5 Themed Hotels in London you Have to Experience
As nice as they are, sometimes a Premier Inn just won't cut it. If you have a special event, birthday, anniversary coming up or are just after something different, then of course, you can find it in London. But what if you don't know exactly what you're looking for? Don't stress! Because we've listed some of the best-themed hotels in London that you just have to experience.
Calling fans of wizardry everywhere! The Wizard Chamber at this 5* hotel promises to transport you to a world full of marvel and magic.
Hidden behind a bookcase door, guests can expect to pass through a portrait lined hallway surrounded in candlelight, creating the distinct mysterious and gothic feel that we might associate with one very famous school of wizardry (note the hotel avoids direct references to a particular young wizard for obvious copyright reasons). In the room itself, you can expect cauldrons, archways, trunks, a four-poster bed, tapestries, wood-burning stoves and a further abundance of wizard-esque artefacts to complete the experience.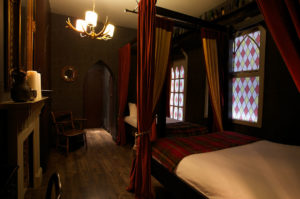 Positioned close enough to Buckingham Palace so that guests can overlook the Royal Mews, it's unsurprising that Rubens at the Palace takes inspiration from its royal neighbours. This 5* hotel offers rooms which are individually themed in honour of past British monarchs, with crystal chandeliers to boot!
The luxurious bedrooms have luxury injected into them at every opportunity, whilst also offering the choice of two restaurants and three bars – so you can be sure you'll be dining (and wining) like a king. But if you're looking for something more casual, you can have a spot of afternoon tea whilst overlooking the Royal Mews.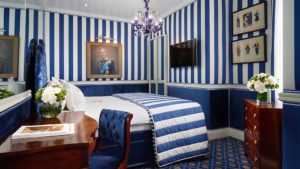 Prison Themed rooms at Clink 78
How about a prison cell for the night? Clink 78 offers you the chance to sleep in a real cell, either in solitary confinement or with your partner in crime! With original prison/police custody features, you're sure to have an experience of a lifetime.
The vibrant hostel is set in an old courthouse where British punk band, The Clash once stood trial, and so naturally they have their very own night-time venue ClashBAR to host live music and DJ sets all from their basement! For a one of a kind experience where you can do the time without the crime then Clink 78 is a must.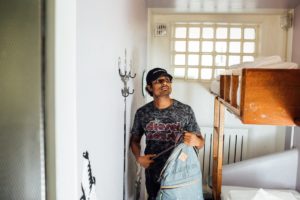 The clue's in the name. "A little bit of luxury in a rough part of London. A little bit of rough in a luxurious London". That's what the Rough Luxe Hotel is all about, according to its owners. Described as the antithesis of 5* hotels, this one-of-a-kind hotel boasts… bare floorboards, chipped paintwork and partly stripped walls mixed expertly with huge day beds which convert into beds at night, covered in rich throws.
This rough around the edges theme makes for an excellent stay in London. Designed on warmth and wit you'll be sure to be charmed by this stand-out hotel.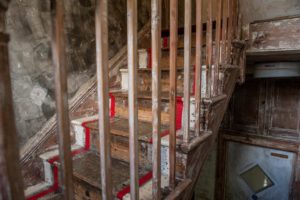 Want the tube without the commute? Look no further! With rooms subtly inspired by the underground, you can experience a platform all for yourself. Hop out of bed onto your carpeted platform fit with 'Mind the Gap' lettering before taking a shower lined with replica station tiles.
This quirky hotel is refreshing, to say the least; full of playful touches which make it a unique stay by anyone's standards. And being centrally located in the heart of Kensington you'll have the V&A Museum and Natural History Museum on your doorstep!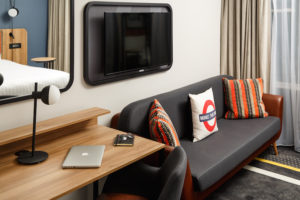 Interested to know what hotel trends you'll be sure to see in 2020? Check out our previous blog!