6 Tips for a Successful Hotel Renovation
Renovation projects aren't easy at the best of times. Let alone for a hotel renovation. But there are ways to make the process as hassle-free as possible. Keep reading for our handy guide of hotel renovation top tips.
Plan ahead
There's no such thing as too much planning when it comes to a hotel renovation. Consider the time of year you'll begin works – your busiest time of year probably isn't the best time to begin transporting furniture around or repainting hallways. Occupancy trends can easily be reviewed to give you a solid idea of the quietest times of year are for your hotel.
When it comes to your project deadline, it's best to let everyone involved know from the very start. Be aware that curveballs are almost a given in any renovation project, so aiming for completion the day before your grand re-opening could be problematic!
Define your goals and budget
Having a clear definition of what you want from the start will be the key to avoiding any time-consuming diversions halfway through. Be sure to write down the details so that any project managers, designers, builders etc. are on the same page.
Defining your budget is also extremely important. Having a top figure allows you to recognise what can be achieved in your renovation and what should wait until the future.
Define your project scope
How can you define what is essential and what would just be nice-to-have? Conduct a full-scale survey around your property! A thorough inspection around your hotel allows you to identify anything that needs updating or fixing, meaning everyone involved will understand what tasks must be covered in your time frame and budget.
Choose durable styles
Opting for classic styles which stand the test of time is often a better choice than following current short-term trends. Renovations aren't a regular occurrence so you want to ensure your designs look as good in a few years as they do right now.
Neutral, solid colours and minimal patterns are always safe options if you're aiming for durable. Minimise memorabilia and pictures on the walls to opt for a fresh, clean and minimalist atmosphere.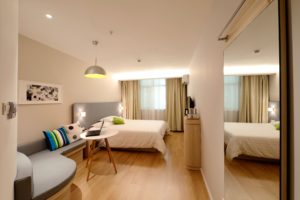 Hire a project manager
We're not saying hand over the keys to your hotel and walk away! Hiring a project manager just allows you to continue running your hotel, whilst an expert in hotel projects manages the construction works. Your project manager will be your point of contact throughout the process, keeping you updated on progress and any changes to your deadline or budget.
HIL offers full project management services for hotel renovations which you can check out here.
Don't forget your guests!
Where major works are taking place, ensure that any rooms surrounding the construction zone are empty, or inform guests that there will be disruptions. In some instances, you may find you need to offer some form of compensation.
You can also minimise disruption by scheduling the noisest construction works to take place during check-in and check-out times, when guests are less likely to be in their rooms. You should also avoid conducting works during the night, and consider a quiet time during the afternoon to offer some respite to guests.

Do you have an upcoming hotel project?
For any new or renovating hotel projects, HIL can offer you full project management services down to simple installation services. Whatever you require we will always be your first choice logistics company. Get in touch here.